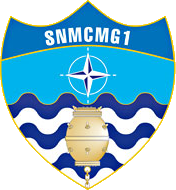 Backround and composition
SNMCMG1 (Standing NATO Response Force Mine Countermeasures Group 1). Units assigned to this force are mostly from countries with access to the Atlantic. The group is usually formed with five or six minehunters and a support ship, usually acting as flagship. Commonly known as MCMFORNORTH, recently changed itīs original name, due to changes in NATO doctrine. Currently is one the groups forming the maritime component of NATOīs Response Force (NRF). Itīs area of operations is the northern atlantic, from Norway to the Strait of Gibraltar, Ireland to the Baltic Sea.
| Country | Number | Name | Details |
| --- | --- | --- | --- |
| Estonia | A433 | Wambola ( Flagship ) | |
| United Kingdom | M112 | Shoreham | |
| Norway | M343 | Hinnøy | ...See data |
| Belgium | M924 | Primula | ...See data |
Events
List of visits, exercises and events of the fleet. Due to obvious reasons it is almost impossible to have accurate data at all times, feedback is always welcome and iīll more than happy to correct inacurate or missing data.
| Dates | Type | Name |
| --- | --- | --- |
| 21/05/2017 - ??/05/2017 | Visit | Helsinki, Finland |
| 12/05/2017 - ??/05/2017 | Visit | Tallin, Estonia |
| 03/05/2017 - ??/05/2017 | Visit | Liepaja, Latvia |
| 13/03/2017 - ??/03/2017 | Visit | Plymouth, United Kingdom |
| 13/03/2017 - ??/03/2017 | Exercise | DYNAMIC MANTA |
| 10/03/2017 - ??/03/2017 | Visit | Devonport, United Kingdom |
| 03/03/2017 - ??/03/2017 | Visit | Devonport, United Kingdom |
| 11/02/2017 - ??/02/2017 | Visit | Gent, Belgium |
| 07/02/2017 - ??/02/2017 | Visit | Zeebrugge, Belgium |
| 14/01/2017 - ??/01/2017 | Visit | Warnemünde, Germany |
| 21/10/2016 - ??/10/2016 | Visit | Aberdeen, United Kingdom |
| 21/07/2016 - ??/07/2016 | Visit | Haakonsvern, Norway |
| 03/06/2016 - 19/06/2016 | Exercise | BALTOPS 16 |
| 26/05/2016 - ??/05/2016 | Visit | Klaipeda, Lithuania |
| 13/05/2016 - ??/05/2016 | Visit | Klaipeda, Lithuania |
| 29/04/2016 - ??/05/2016 | Visit | Kristiansand, Norway |
| 22/04/2016 - ??/04/2016 | Visit | Faslane, United Kingdom |
| 04/03/2016 - ??/04/2016 | Visit | Zeebrugge, Belgium |
| 01/04/2016 - ??/04/2016 | Visit | Dublin, Ireland |
| 23/03/2016 - ??/03/2016 | Visit | Portsmouth, United Kingdom |
| 17/03/2016 - ??/03/2016 | Visit | Zeebrugge, Belgium |
| 26/02/2016 - ??/02/2016 | Visit | Amsterdam, Netherlands |
| 24/02/2016 - ??/02/2016 | Visit | Kiel, Germany |
| 24/02/2016 - ??/02/2016 | Visit | Den Helder, Netherlands |
| 05/02/2016 - ??/02/2016 | Visit | Ronne, Denmark |
| 29/01/2016 - ??/01/2016 | Visit | Copenhaguen, Denmark |
| 26/11/2015 - ??/11/2015 | Visit | London, United Kingdom |
| ??/11/2015 - 11/11/2015 | Visit | Lisbon, Portugal |
| 09/10/2015 - ??/10/2015 | Visit | La Coruña, Spain |
| 02/10/2015 - ??/10/2015 | Visit | Brest, France |
| 29/09/2015 - ??/09/2015 | Exercise | Northern Coasts |
| 28/09/2015 - ??/09/2015 | Visit | Kiel, Germany |
| 04/09/2015 - ??/09/2015 | Visit | Hamburg, Germany |
| 28/08/2015 - ??/08/2015 | Visit | Den Helder, Netherlands |
| 21/08/2015 - ??/08/2015 | Visit | Rotterdam, Netherlands |
| 10/08/2015 - ??/08/2015 | Visit | Zeebrugge, Belgium |
| 26/06/2015 - ??/06/2015 | Visit | Rota, Spain |
| 19/06/2015 - 28/06/2015 | Visit | Kiel, Germany |
| 04/06/2015 - ??/06/2015 | Visit | Gdynia, Poland |
| 29/05/2015 - ??/05/2015 | Visit | Tallin, Estonia |
| 08/05/2015 - ??/05/2015 | Visit | Klaipeda, Lithuania |
| 01/05/2015 - ??/05/2015 | Visit | Göteborg, Sweden |
| 25/04/2015 - ??/04/2015 | Visit | Glasgow, United Kingdom |
| 10/04/2015 - ??/04/2015 | Visit | Glasgow, United Kingdom |
| 10/04/2015 - ??/04/2015 | Exercise | Joint Warrior 151 |
| 02/04/2015 - ??/04/2015 | Visit | Falmouth, United Kingdom |
| 27/03/2015 - ??/03/2015 | Visit | Cherbourg, France |
| 13/03/2015 - ??/03/2015 | Visit | Zeebrugge, Belgium |
| 06/03/2015 - ??/03/2015 | Visit | Amsterdam, Netherlands |
| 27/02/2015 - ??/02/2015 | Visit | Kiel, Germany |
| 20/02/2015 - ??/02/2015 | Visit | Gdynia, Poland |
| 13/02/2015 - ??/02/2015 | Visit | Copenhaguen, Denmark |
| 30/01/2015 - ??/02/2015 | Visit | Kiel, Germany |